Government Reponds to Save Atewa Forest Campaign 2018
The new Minister of Environment, Science, Technology and Innovation, Prof. Kwabena Frimpong Boateng met with leading members of the "Save Atewa Forest Campaign" to discuss issues regarding mining the Atewa forest for Bauxite. It was a fruitful knowledge sharing meeting and again, a good indication of the new government's willingness to listen and act from a well informed position. This is the first meeting with the new government since the campaign reignited in 2017 as a result of government's change in position to upgrade the forest into a National Park in 2016.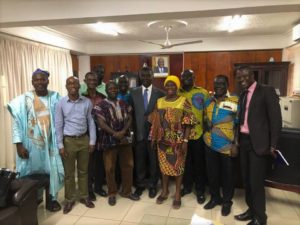 Many more of such engagements with stakeholders is expected to follow in the coming days to address the barrage of concerns being raised with regards to mining the forest reserve (water tower) for bauxite.