A Rocha Ghana Commemorates 20th Anniversary As Non-Governmental Environmental Conservation Organisation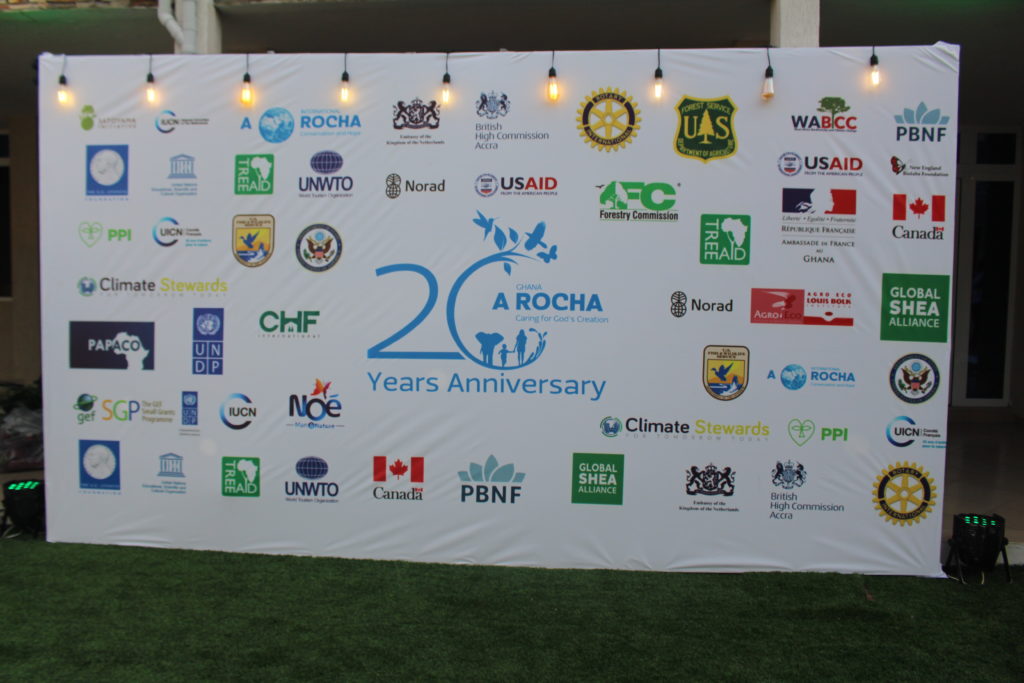 A Rocha Ghana's long awaited 20th Anniversary launch was one filled with lots of colour, savour and abundance of joy―guests with an epic picture of pure excitement. It was a night filled with sweet melodies, a night many cannot forget in a hurry.
The launch was held on November 28, 2019 at the GNAT Hall in Accra and anchored on the theme; "Celebrating and Reflecting on our Impact on Environmental Sustainability."
The event saw many faces grace the occasion with their presence. Both young and old came to celebrate with the winning team. Several dignitaries including the Ambassadors to the Netherlands and Australia were present and delivered solidarity messages at the event.
Speaking as chairperson for the occasion, Professor Rose Entsua-Mensa, former Deputy Director-General, Centre for Scientific and Industrial Research (CSIR), applauded the organisation's efforts in protecting the environment and Ghana's resources in an era where it seems no longer necessary to do so.
According to her, A Rocha Ghana (ARG), in the face of several oppositions has kept their commitment to environmental sustainability.
National Director for ARG, Dr. Seth Appiah-Kubi in a rather solemn and appreciative mood took audience on a history tour of A Rocha Ghana's double-decade success story.
In his Speech, Dr. Appiah-Kubi recounted how the company "like a child born to parents of humble background rather than with a golden spoon in their mouth, A Rocha Ghana has emerged as a committed environmental NGO providing practical conservation interventions aimed at contributing to the sustainable management of the important ecological habitat and species and contributing to the livelihood enhancement of deprived communities."
"Over the last 20 years, A Rocha Ghana has initiated and sustained programs aimed at strengthening the capacity of communities to be resilient and adapt to current trends in climate change and other environmental threats," he said.
Dr. Appiah-Kubi took time to appreciate individuals and organisations who have all through the years supported ARG in its quest to save Ghana's environment and resources.
He said, "…for an organization like us, setup with no much expertise, and resourced, even failure was on the agenda. Everyone here this evening has contributed one way or the other to our work, directly or indirectly."
Solidarity Messages
The Australian High Commissioner to Ghana, Mr Andrew Barnes, in his solidarity message encouraged ARG not to give up in its efforts aimed at holding government accountable for environmental sustainability.
"It is organisations like ARG and other CSOs that are needed more than ever. Your roles are incredibly important and please don't give up," he said.
Speaking on issues surrounding the mining of bauxite in the Atewa Forest, a campaign that ARG has spearheaded for a number of years, Mr. Barns said ARG and other CSOs must ensure that due process is followed and that a full environmental investigation is done and published.
On his part, Ambassador of the Royal Netherlands Embassy, Mr Ron Strikker, applauded Ghana as country for freely allowing the operation of CSOs like A Rocha Ghana. For him, if freedom where not to be exercised in Ghana, it would make the work of civil society difficult.
He said, "CSOs like A Rocha are basically the embodiment of citizens coming together and taking destiny and the political will to do something…we need a society where citizens are not subjects and the freedom, we have in Ghana permits CSOs and citizens of the country to do that. For that I would like to say Hurray, Hurray to Ghana."
Mrs. Saadia Bobtoya Owusu-Amofah,  Country Coordinator for the International Union for Conservation of Nature (IUCN), gave an address on behalf of her organisation.
Mrs. Owusu-Amofa said the IUCN is proud to be associated with ARG even as the organisation celebrates its 20th anniversary.
The IUCN in Ghana, according to her, has had the opportunity to partner and work directly with ARG on a number of key initiatives which have had significant impact on community engagement and the strengthening of natural resource governance structures at local level.
"We have also worked together to promote climate smart agriculture and landscape restoration as well as gender responsive natural resource management. Another area we have worked with ARG to champion is, nature-based business value chains. We are very happy that this is continued," she added.
Key highlights of the Night
The commemoration of ARG's 20th anniversary also saw the launch of the Mole Ecological Landscape Conservation Trust Fund (MELCTF) as well as the outdooring of construction works for a Shea Processing Facility. The facility is expected to be completed by June 2020.
These two activities happen to be one of the key highlights of the night. With a seed of GH ₵50,000 the trust fund is expected to provide long term sustainable source of funding to support biodiversity conservation, livelihoods and other related sustainable development objectives, within the Mole Ecological Landscape located in northern parts of Ghana.
The shea processing facility on the other hand, will establish an environmentally friendly organic shea butter-processing facility in Murugu around the Mole National Park in Ghana. There are over 600 indirect women beneficiaries, although in total around 1,000 women will be impacted (including the women from the large communities that will supply the centre).
It is envisioned that the centre would directly employ 200 workers mostly of which are women and would produce one tonne of butter a day. Women will receive more premiums on butter produced and would gain all-year-round employment.
Awards
The commemorative night could not end without ARG recognising some key institutions and personalities for their outstanding support over the years.
On behalf of ARG, Vice-chair for the company's board of trustees, Rev. Aboagye Mensah presented plaques of honour and citations to the Royal Netherlands Embassy, IUCN Netherlands Committee and to the Media―CITI, Multi-Media and TV3
Individual who received special recognition from ARG were Dr. Steve Manteaw and Mrs Hannah Koranteng, Associate Executive Director for the Wassa Association of Communities Affected by Mining (WACAM).