A Rocha Ghana & Partners Launch Green Corporate Star Award
In recent years, a global paradigm shift to the definition of good business has emerged. A good business is no longer the one that posts impressive profit margins, but one that focuses performance on the triple bottom line criteria of economic, social and environmental equity.
In seeking to promote and harness the latent green development leadership potential of businesses in Ghana, A Rocha Ghana working with its numerous partners, specifically the Netherlands Committee of the International Union for the Conservation of Nature,  IUCN Ghana, Friends of the Earth Ghana, Tropenbos Ghana and The Development Institute  under the Green Livelihood Alliance and Shared Resource Joint Solutions  have partnered with the EMY Awards to introduce a full fledge Honorary Award to recognize leaders and businesses whose deeds in planning and investments count not only for today's society and economy, but also for public goods and generations yet to come, through premeditated and dedicated attention to secure environmental sustainability.
The partnership of organizations recognize that envisioning businesses that epitomize sustainability based on the triple bottom line criteria is easy, but the hardest part is making that vision a reality. As such, the need to shine the light on business leaders and corporations that make blaze the trail and make sustainability a key part of their corporate fabric and values not only in words but in deeds.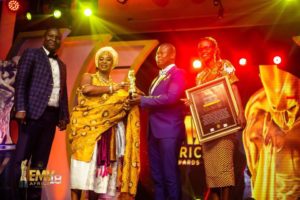 The maiden Green Corporate Star Award went to Blue Sky Products Ghana Limited at the just ended 18th Edition of the EMY Awards for their exemplary dedication and commitment to commodities and value chains that promotes and enhances well-being while promoting inclusivity and prosperity within the society.
A Rocha Ghana has since 2017, partnered with the EMY Awards to highlight the need for business leaders and corporate agencies to promote environmental sustainability even as they work at their core business of making profit. These actions are borne out of A Rocha Ghana's long term commitment in supporting, enhancing and promoting the connectedness of our living space with the businesses around us.
In 2017, A Rocha Ghana working in collaboration with IUCN Ghana established the Businesses in Environmental Stewardship Network (BESNet).  BESNet is a nexus of businesses committed to promoting and supporting natural capital inclusion and security in business development and company production value chains. The Network which is open to all private agencies and businesses is currently serving as the nexus for dialogue and engagement by businesses that are committed to the triple bottom line outcomes of economic, social and environmental equity. Current membership of the BESNet include Guinness Ghana Brewery Limited, Panbros Salt Industries Limited, Accra Brewery Limited, Blue Skies Products Ghana Limited, Benso Oil Palm Plantations Limited, Ghana Oil Palm Development Company, C Alade Enterprise, Ghana Water Company Limited and Summit Industries Limited. In presenting the award, A Rocha Ghana highlighted the numerous opportunities that abound for businesses to engage positively and contribute to environmental sustainability.
According to A Rocha Ghana, opportunities exist for society to patronize and invest across all sectors of the economy, but only in companies that have industry leading best quantitative and qualitative environmental, social and governance practices. That might mean investing in companies with sound corporate climate policies in place or those that disclose their carbon and water footprints as well as reduction targets over-time.  This can also include companies with better safety records and more diverse boards.
Opportunities also exist for individuals and financial institutions to invest in clean farming, water purification systems or evaluating carefully, companies with operations tied to parts of the country where food or water could be scarce. Hard to believe as it may, the 2016 water shortage in Nsawam-Adoagyire has everything to do with the operations of several companies, big and small and individual and corporates. The devastation of scarce forests in northern parts of Ghana can be traced to the practices and motivations of several businesses, owned by prominent people in society.
The desolation and deprivation caused by galamsey all over the country has the fingerprints and footprints of many companies on them. We can reinvent the wheel and change the storyline to see several companies make commitments beyond Corporate Social Responsibilities (CSRs) to support government in restoring degraded landscapes caused by galamsey. Opportunities exist for companies and businesses to invest in the operations of the many protected areas in Ghana. Companies can adopt a coastline and support livelihood and coastal management. Companies adopt nature trails and support the provision of logistics and equipment for forest guards and patrol teams. Companies can invest in industries that empower the livelihood of communities who live close to and suffer the impact of conservation actions in Ghana. There is no doubt opportunities exist for companies to do more beyond their regular corporate social responsibility.