Ambassador Robert P. Jackson & Caecilia Wijgers visit Atewa Waterfall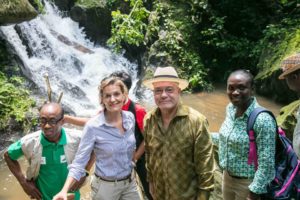 The US Ambassador, Robert P. Jackson and the Deputy Netherlands Ambassador to Ghana, Caecilia Wijgers visited one of Atewa Forest's splendid waterfalls. The adventurous hike through the forest provided an opportunity for the two diplomats who seemed determined from their walking pace to experience and enjoy the fresh scenery of the beautiful falls.The resonating sound from the falls was enough motivation to spur the ambassadors and their entourage on to navigate the wet-slippery trails till they finally arrived at their destination. The visit by Ambassador Robert Jackson is part of efforts to garner more support to secure Atewa Forest as a National Park. Among key dignitaries accompanying the team were Mr. Owusu Afriyie (CEO Of Forestry Commission), Seth Appiah Kubi (National Director, A Rocha Ghana), Fred Smiet (First Secretary, Water & Climate at Netherlands Embassy Ghana),Karen Bel (US Embassy), Sara V. Stealy (US Embassy), David Kpelle (Director of Operations, Forestry Commision) and Oppon Sasu (Director of Corporate Planning, Evaluation & Monitoring / Donor Relations, Forestry Commission).
Visit to Okyehene's Palace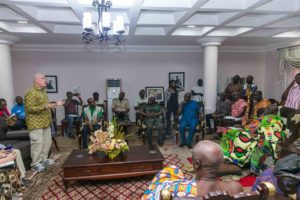 Prior to the adventurous hike, the visiting team paid a courtesy call on the Okyenhene, Osagyefo Amoatia Ofori Panin, Paramount Chief of the Akyem Aboakua Traditional council. Osagyefo Amoatia Ofori Panin, expressed gratitude to the ambassadors for their visit and commended their support to protect the Atewa Forest Reserve. In his remarks, he mentioned the many benefits of the Atewa forest and how valuable it was in supporting research and academic studies. He hoped that, his wish of long term sustainable management through the National Park development agenda will support research and education in the country and especially for students and researches at the University College for Environment and Agriculture-Eastern Region.
Ambassador Robert P. Jackson commended Osagyefo Amoatia Ofori-Panin and his traditional council as well as A Rocha Ghana, the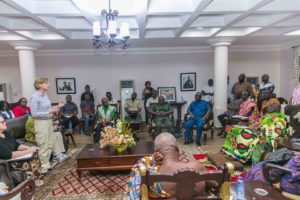 Forestry Commission and all stakeholders for their determination to conserve the Atewa Forest and have it protected as a National Park. On her part, Deputy Ambassador, Caecilia Wijgers said, the Dutch government though the Ghana Netherlands WASH Program is determined to support initiatives and programs that support access to clean and safe water for all. She mentioned that, protecting Atewa Forest as a National Park will help secure water availability and supply as well as contribute to the protection of biodiversity.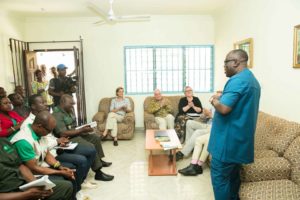 The new Chief Executive Officer of the Forestry Commission, Mr.  Owusu Afriyere mentioned in an interview that  government was considering to put on hold, plans to mine bauxite deposits within the lush upland forest reserve. He said this was to allow government assess other development proposals brought by other stakeholders.
Mining Bauxite in Atewa
Recent government intentions in the 2017 Budget statement emphasized government's commitment to develop an integrated Aluminum industry and also mine bauxite deposits within the Atewa Forest Reserve and two other areas in Ghana. This, has led to the intensification of advocacy work by stakeholders to draw governments attention to the opportunity cost and potential  loss of the forest's biological diversity and ecosystem functions such as clean air and water provisioning  to over 5 million Ghanaians.  A Rocha Ghana together with the Forestry Commission and its partners are currently working secure to the forest reserve as a National Park in order to ensure its long term benefits for downstream, and upstream communities.