Atewa Forest Reserve: TEEB Workshop 2016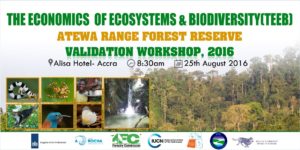 The Economics of Ecosystems and Biodiversity (TEEB) is a global initiative focused on "making nature's values visible". Its principal objective is to mainstream the values of biodiversity and ecosystem services into decision-making at all levels. It aims to achieve this goal by following a structured approach to valuation that helps decision-makers recognize the wide range of benefits provided by ecosystems and biodiversity, demonstrate their values in economic terms and, where appropriate, capture those values in decision-making.
As part of efforts to enhance the protection status of the Atewa Range forest under the project: Living Water from the Mountain: Protecting Atewa Water Resources; outcomes of a TEEB study commissioned in 2015 would be validated to provide appropriate information that will guide long term policy decisions on securing the Atewa Forest Reserve. The validation workshop is in collaboration with the Forestry Commission, the Water Resources Commission, the Netherlands Committee of IUCN and other global environmental institutions. This study is made possible with funding from the Royal Netherlands Embassy in Ghana, under the Ghana Netherlands Wash Program window.