Avoid planting and eating food crops from abandoned mined sites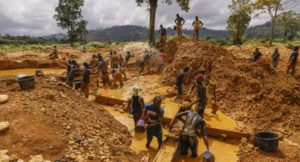 Illegal small scale gold rush, popularly known as "Galmasey", in the last decade in Ghana has caused massive destruction to farmlands and fresh water bodies. The development spurred on with the underlying excuse of absence of jobs on the part of actors. Poor institutional monitoring and regulation of the small-scale mining sector resulted in the degradation of productive agricultural lands that were once fertile for food crop production. Understanding the opportunities and threats associated with returning these lands to productive functions is imperative to future plans of restoration due to the widespread use of mining chemicals such as mercury together with poor chemical waste disposal as well as crude means of mineral extraction.
Already in many places, local farmers have moved in to plant food crops such as cassava, oil palm, coconut, just to mention a few on these lands oblivious of the potential dangers it poses to the health of consumers. At the national level, the Ministry of Lands and Natural Resources as part of interventions to halt illegal mining and restore these degraded sites, has embarked on a Multi-Lateral Integrated Mining Project which has among other objectives to check illegal mining and reclaim degraded lands.  This development presents a clear opportunity to understand what is possible for land reclamation and restoration of abandoned mined sites for productive use.
Results received from a study commissioned in 2016 by A Rocha Ghana and the International Union for the Conservation of Nature (IUCN) –Netherlands on abandoned illegal mined sites in parts of the Eastern Region of Ghana has revealed alarming concentrations of mercury and arsenic compounds in the soil and water; making these degraded mine sites unsuitable for immediate food crop production. Soil analysis was conducted by the Soil Research Institute of the Center for Industrial and Scientific Research-Ghana. According to the research, foods cultivated on these sites have the potential of accumulating high amounts of mercury and arsenic concentrations in the soil therefore making it unsafe for consumption due to their toxicity. The research titled "Landscape Restoration Potential and Business Case Feasibility Assessment for Atewa ", was conducted with a sample size of 6500 hectares of abandoned mined areas, 1800 hectares of  bare soil and 300 hectares of mined pits.
Research Findings
At a research validation workshop attended by selected stakeholders at Kyebi in the East Akyem Municipality of the Eastern Region of Ghana, the lead Researcher, Rutger De Wolf, a senior consultant with Form International (Netherlands) explained that the soil quality test performed during the research showed the Mercury content at the abandoned mined sites was as high as 58 ppm, a figure more than the safe threshold of less than 1 ppm.
The results also indicated high levels of Arsenic, a highly toxic inorganic chemical with content between 36 – 117 ppm. This amount of arsenic was also recorded to be higher than the safe threshold of maximum 0.010 ppm according to Ghana Water Company Limited. (National water quality management framework.pdf p125). Medical research has shown that long-term exposure to arsenic from drinking-water and food can cause cancer and skin lesions. The toxic compound has also been associated with cardiovascular diseases and diabetes. Early childhood exposure has been linked to negative impacts on cognitive development and increased deaths in young adults.  Sampled streams of the Birim River, which takes its source from the Atewa Forest and flows through many communities downstream, also recorded high thresholds of mercury and arsenic compounds with variable levels of Lead and moderate to high turbidity. Unfortunately, some local farmers have cultivated crops on the mercury and arsenic contaminated mined lands, a situation that has serious health implications for consumers.
Conclusion & Recommendations
Conclusions from the research strongly recommends reclaimed mine lands be used for Non-food production such us planting economic timber species, nitrogen fixing plants such as Leucaena leucocephala and shrubs. It also called for continuous periodic water and soil testing to ensure safe chemical thresholds are recorded before consuming products from such areas.  The Chief Basin Officer of the Water Resources Commission, Eastern Region, Dr. Ronald Abrahams said, crops that have already been grown on illegally mined sites must be checked and destroyed immediately before they is smuggled to markets for consumption. Professor Gabriel Ameka of the Department of Plant and Environmental Biology -University of Ghana called for the recommendations of the research to be taken seriously to avoid endangering lives.
Daryl Bosu, Deputy Director at A Rocha Ghana mentioned that copies of the findings have been made available to the environmental regulatory bodies and related state actors for policy direction.