EIA Reveals How Corruption is Fueling Illegal Rosewood Trade In Ghana
An investigative report by Washington DC-based Environmental Investigation Agency (EIA), has exposed the total inefficacy of the ban placed on rosewood harvesting and trade in Ghana.
Despite a full-fledged ban renewed some five months ago, Ghana's forests and surrounding communities are still victims of rosewood exploitation and looting.
In March this year, the Ministry of Lands and Natural Resources announced the restitution of a long time ban on harvesting, transportation, and export of rosewood. But EIA's investigative piece reveals the illegality has fostered unabatedly with the ban having no impact on reducing rosewood trade.
Available data by the EIA shows that, on the contrary, exports have increased while the bans have been in place.
In the critical report, the EIA estimates that since 2012, over 540,000 tons of rosewood—the equivalent of 23,478 twenty-foot containers or approximately 6 million trees—were illegally harvested and imported into China from Ghana.
Investigations by the agency further reveal a massive institutionalized timber trafficking scheme, enabled by high-level corruption and collusion in the forestry sector.
According to the EIA, Chinese and Ghanaian traffickers are still harvesting and shipping rosewood out of the country through "the help of ruling party members and complicity at all levels of government."
Reflecting, there is no doubt that a decade of unsustainable rosewood logging should have attracted emergency response and action from all stakeholders. This, unfortunately is not the case and the issue seems to be getting even more serious.
Even worrying is the observation that, State advertised ban on harvesting and trade has not been effective in addressing the menace. This definitely raises a lot of doubts on the seriousness of our state institutions to do whatever it takes to protect our natural environmental against illicit trade such as the one experienced with rosewood since 2012.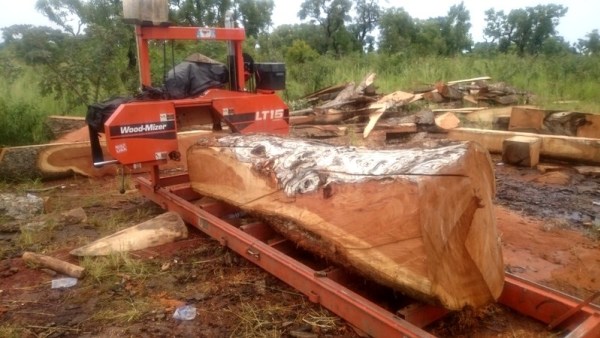 We at A Rocha Ghana (ARG) are appalled by this unfortunate revelation especially when the very people instituted to be custodians of our natural resources are the very same people allegedly fingered as 'Traitors'.
As environmentalists, we stand by the truth that logging is gravely contributing to the desertification crisis that our country Ghana has been laden with over the years.
Rosewood is supposed to be protected by Cites, the Convention on International Trade in Endangered Species of Wild Fauna and Flora, but unfortunately, this has not been enough ground to steer way perpetrators.
Based on our experiences engaging with affected communities, we recommend that;
As a precautionary measure, the Ministry of Lands and Natural Resources and its agencies should stop issuing salvaging permits and export permits while there is national ban. There should not be any exceptions to ban on rosewood harvesting and trade in Ghana.
Communities and other CSOs are willing to cooperate and support government, in addressing the menace. The law enforcement agencies should therefore prioritize to act on reports of illegal rosewood activities by communities and informants.
As we work towards sustainability, in the period of the ban, the Forestry Commission should conduct a Non-Detrimental Finding study to provide the basis for establishing harvesting quotas when the ban is eventually lifted.
For us to avert this ongoing crisis at regional level, it is essential that all countries work together by focusing on the compliance with existing CITES rules, and ensuring that concrete steps are taken towards full public transparency and traceability regarding rosewood production and trade.
A species is at risk; an eco-zone under threat and achieving climate resilience for fragile landscapes. Community areas where rosewood harvesting is rife has become even more critical and a continuous dereliction of duty to nib this menace in the bud, will be a betrayal of our commitment to achieving SDGs 2, 13, 14, and 15.
Find full EIA Report here BAN-Boozled Rosewood Ghana