Forest Rehabilitation Commences at Atewa Forest Reserve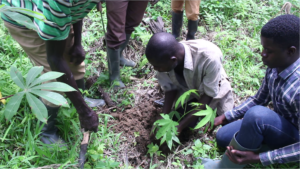 Rehabilitation of degraded areas used as farmlands within the Atewa Forest Reserve has commenced as part of several efforts in reversing the current trend of degradation and securing the ecological integrity of the forest. The reforestation exercise is in close collaboration with the Forestry Commission, A Rocha Ghana and farmers in neighboring communities whose farming activities have encroached on the boundaries of the forest reserve. The enrichment planting exercise involves over 20, 000 seedlings of economic timber species including: Emire (Terminalia ivorensis), Ofram (Terminalia superba), Ceiba (Ceiba pentandra), and Mahogany (Khaya ivorensis) which were raised in three farming communities (Dompim, Osafo and Titikasom). Transplanting activities are collaboratively being done by specific farmers who have encroached on the boundaries of forest, with full technical and supervisory support from staff of the Begoro Forest District Office.
Engaged farmers constitute those that encroached on the boundaries of the reserves as a means of expanding their farms to meet increasing livelihood needs.   It is planned and agreed that farmers will exit these farms when the planted seedlings grow into young trees. This is a collaborative measure to phase out all illegal farms over a period, whiles ensuring the rehabilitation of degraded lands previously used as farmlands within the forest. A structured monitoring program has been developed to ensure the rehabilitation program meets its set objectives. In the long-term, A Rocha Ghana and partners will work with farmers to explore long-term livelihood enhancement opportunities for development.