Canadian High Commission Supports Muni-Pomadze Ramsar Site, Ghana
Project Launch
With support from the Canadian Department of Foreign Affairs, Trade and Development (DFATD) under the Canadian Fund for Local Initiative (CFLI), A Rocha Ghana launched a seven (7) month project at Winneba on September 20, 2016 as part of continuing efforts to build resilience against climate change through the strengthening of ecosystem services and improving the livelihood of community members, especially women groups within the fringes of the Muni-Pomadze Ramsar Site. The launch was attended by representatives from the Municipal Assembly, target communities, Wildlife Division and project management team from A Rocha Ghana.
About the Project
The project aims at empowering two eastern communities namely Warabeba and Nsuakyir, located within the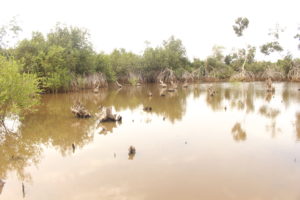 Muni-Pomadze Ramsar Site area in the Effutu Municipality of the Central Region of Ghana in sustainable utilization of mangrove resources and mangrove restoration activities. This will result in a more productive and profitable fisheries enterprise, coastal ecosystem conservation as well as livelihood enhancement. The project will also:
Train community members in the construction and use of energy efficient "Chorkor" fish smoking kilns;
Increase capacity of women groups in value-chain addition especially in the areas of processing and marketing of small business enterprises in fisheries;
Rehabilitate degraded mangrove stands within the Muni Pomadze Ramsar site. This activity will contribute to restoring the ecological integrity of the site and ameliorate the impacts of climate change in the medium to long term.
The project is in collaboration with the Wildlife Division of Forestry Commission, the Municipal Assembly and local community leaders.
Muni-Pomadze Ramsar Site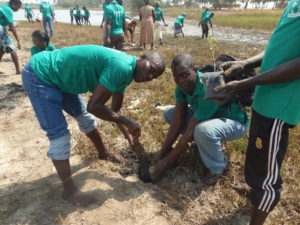 The Muni-Pomadze Ramsar site is one of Ghana's wetlands set aside for conservation due to its international importance according to set criteria and managed to provide maximum benefits to fringed communities.  This Ramsar site is made up of the Muni Lagoon, the surrounding flood plains and the adjacent sandy beach on the seafront. It provides feeding or staging habitats for migrating waders that spend the non breeding season in Ghana. Forty-eight (48) species of water birds comprising of 29 species of waders, eight species of terns, two species of gulls, seven species of herons and egrets have been recorded at the site. Over the years, A Rocha Ghana with support from the Wildlife Division of the Forestry Commission of Ghana and donor partners have been engaged in conservation activities where over 10,000 mangrove and tree seedlings have been nursed and planted at degraded areas. Again, about 150 community members have also been trained in alternate income generating enterprises all in a bid to secure the ecological integrity of the site and sustain its benefits to local communities as well contribute to ameliorating the impacts of climate change.