Mrs Reiner Buijs visits Atewa Range Forest Reserve – Ghana
Mrs. Reiner Buijs, the Deputy Director General for International Cooperation, Ministry of Foreign Affairs of the Netherlands, paid a familiarization visit to the East Akyem District in the Eastern Region of Ghana on March 16, 2016. The visit which was organized together with the Royal Netherlands Embassy of Ghana coincided with the Director General's participation in a two (2) day New Forests for Africa Conference where she delivered a speech on the connection between plantation forestry in West Africa and the Dutch government's policies on development cooperation in climate change mitigation and adaptation. She used the opportunity to visit the Living Water from the Mountain Project being implemented by A Rocha Ghana, in partnership with the Forestry Commission, Water Resources Commission, Permian as well as several civil society groups in a coalition called the Coalition of NGOs against Mining in Atewa (CONAMA) in the East Akyem District.
Among many issues discussed were strategies to galvanize more support from the Executive and also the Legislature to provide immediate support to enact relevant legislation to secure the Atewa Forest and secure the Densu Basin against threats from mining and illegal logging. Opportunities for leveraging climate finance and developing livelihood options to support the exuberant youth close to the forest reserve were also deliberated upon. Again, opportunities for the development of tourism infrastructure to generate the necessary revenue to support the National Park agenda were also discussed.
The visit ended with a site visit to an off-reserve mining concession where Mrs. Reiner and the team had the opportunity to interact with workers at the mine to understand the dynamics, motivation and economic benefits as well as the challenges and long-term impacts of mining activities on the fringes of an important water tower like the Atewa Forest Reserve.  Other team members who accompanied the Deputy Director General's visit were Caecilia Wijgers, Deputy Head of Mission at Royal Netherlands Embassy; Fried Smiet, First Secretary Water and Climate, Ghana Netherlands WASH Programme (GNWP) and Ileen Wilke, Trainee in Communication and Trade.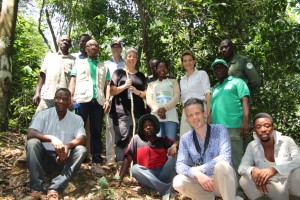 Seth-Appiah Kubi, National Director-A Rocha Ghana also led the A Rocha team accompanied by Daryl Bosu, Deputy Director; Emmanuel Akom, Project Manager for Living Water from the Mountain;  Daniel Ewur Community Liaison Officer and Jacqueline Mbawine, Scientific Officer A Rocha Ghana. Others included Mr. Atta Owusu, Regional Manager for Forest Services Division and Mr. Akrassi, Forest District Manager-Begoro.