Putting Ghana's Mushrooms in the Limelight through the GBIF Project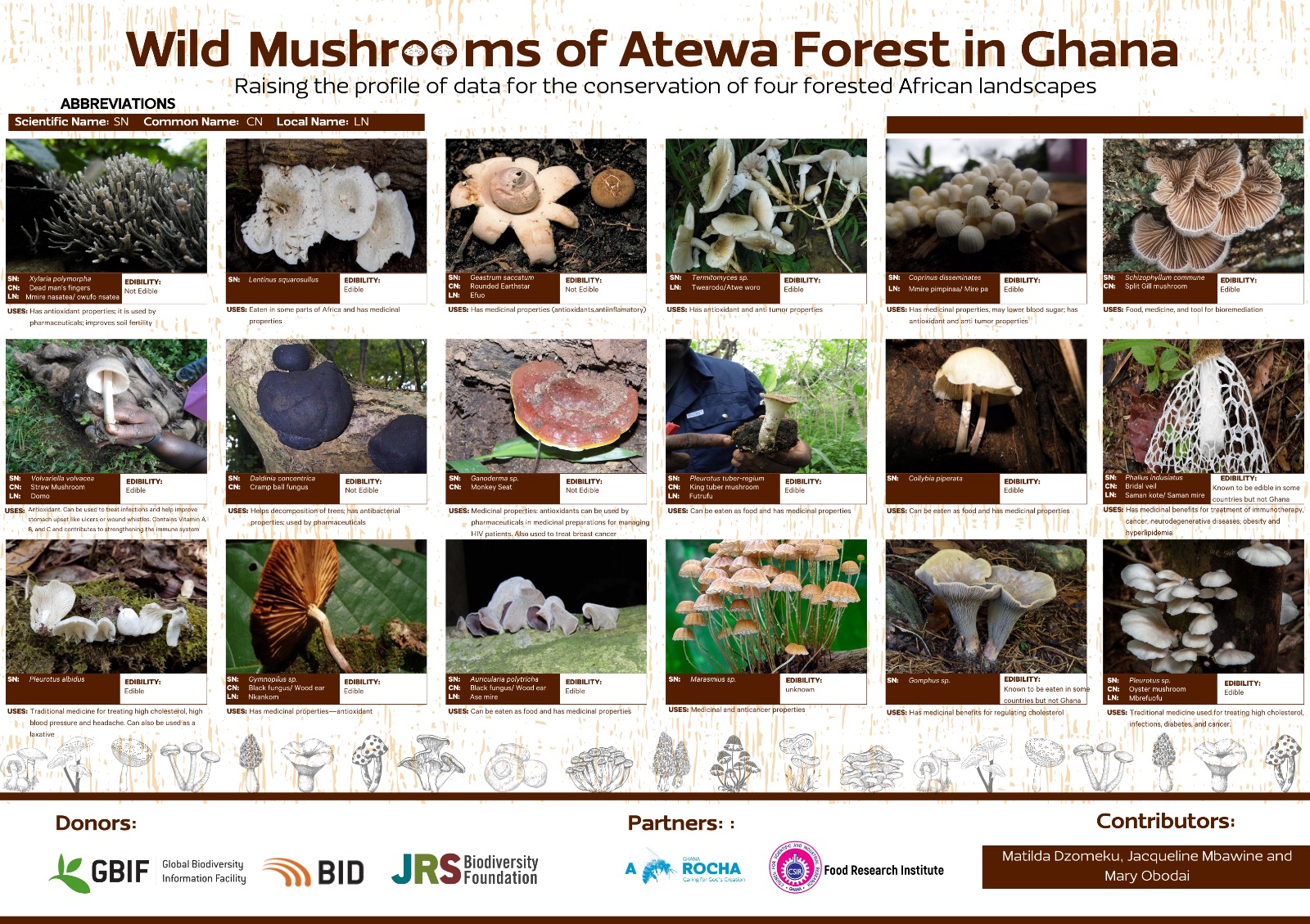 As part of the Biodiversity Information for Development (BID) and the GBIF: The Global Biodiversity Information Facility project dubbed "Raising the Profile of Data for the Conservation of Four Forested African Landscapes", biodiversity data on wild mushrooms of Ghana has been mobilised and published from different landscapes within the country.
This has been led by A Rocha Kenya and co-implemented by A Rocha Ghana and the Council for Scientific and Industrial Research- Food Research Institute (CSIR-FRI).
The importance of these datasets was to share information gathered on some medicinal and edible mushrooms and how these can contribute to sustainable management of forests as well as enhancing the livelihood of fringe communities.
Besides publishing the data on the GBIF portal, an information product was developed and shared with communities within Community Resource Management Areas (CREMAs) around the Atewa forest in the Eastern Region of Ghana.
Community contribution
To ensure the information gathered is well used and disbursed, a community engagement session was held with representatives from eight communities within the Atewa landscape.
The engagement saw the sharing of knowledge on the mushrooms in terms of their propagation, their uses (either edible, medicinal or performing ecological functions).
Community members also shared some indigenous knowledge on how these mushrooms have been used over the years and together the team explored how the current science on mushroom cultivation, management and utilization can be integrated with indigenous knowledge. Communities showed interest in propagating the edible mushrooms moving forward.
Getting MOFA and the Local Government involved
As part of the information product sharing visit, key government stakeholders such as the Municipal Director for the Ministry of Agriculture (MOFA) and the Abuakwa South Municipal Development Planning Officer were visited.
The meeting with the MOFA director was to discuss how the information product developed could be mainstreamed into the engagement of the department with fringe communities.
As part of their mandate, the Agric department through their extension agents support farmers and community members in up-taking initiatives such as mushroom propagation.
The MOFA director who had taken part in some of the data mobilization training gave his support for the sharing of the information product developed and to mainstream where feasible the initiative of mushroom propagation particular of the edible mushrooms.
The Municipal Planning officer also gave her word to support the mainstreaming of the initiative within the workplan and support that the Municipal Assembly can provide to communities within the landscape.
A Rocha Ghana Stationed within the Atewa landscape will continue to provide support to communities in the mainstreaming of initiatives such as the uptake of the information product in the development and implementation of livelihood interventions within the landscape.
Datasets
Download Mushroom information product HERE.