Reconsider Mining Atewa Forest-CONAMA Calls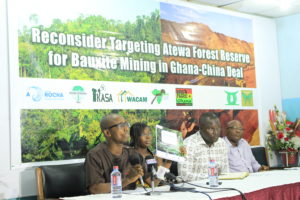 The Coalition of NGOs Against Mining Atewa (CONAMA), led by A Rocha Ghana, made a call on the government of Ghana to reconsider targeting the Atewa Forest Reserve for Bauxite mining in the new Ghana-China $15 Billion Bauxite Deal. Addressing a cross-section of the media, the coalition listed major reasons why the forest reserve should be protected against all forms of mining and additionally, suggested alternate sustainable development options within the forest landscape that could be looked at by government.
Why Atewa Forest Needs to be Protected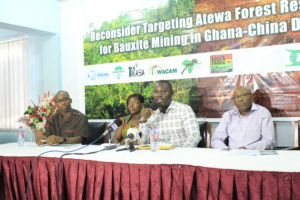 The Atewa Forest is an irreplaceable and most important water tower in Ghana; providing water for 5 million Ghanaians on daily basis. The forest is headwaters for three main rivers: the Birim; Ayensu and the Densu. These rivers provide water to millions of Ghanaians in the Eastern, Central and Western Regions of Ghana. Water from the forest feeds the Weija Water Treatment Plant for vast areas in the capital city, Accra and other nearby towns.

Members of the coalition include:Tropenbos Ghana, Friends of the Earth Ghana, Okyeman Environment Foundation,The Development Institute, Save the Frogs Ghana and Herp Ghana.
---