Rotary Int. Supports Green Inclusive Economy at Mole Ecological Landscape
The Mole National Park is one of Ghana's popular tourist destinations for visitors who love to enjoy the scenery of pristine natural environments as well as Savannah wildlife in their natural habitats.
The park over the years has contributed significantly to the economy in Ghana through tourism and supported the protection of biodiversity, scientific research and education. However, the benefits of the park still has very little reflections on the lives of most communities surrounding it. This situation has driven many of these communities to engage in bad land use practices and unsustainable exploitation of resources within the landscape in order to bridge the livelihood gap.
Working with communities to address challenges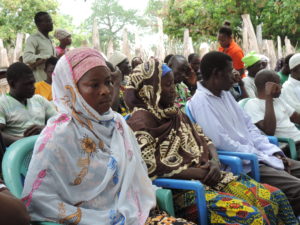 A Rocha Ghana (Northern Sector) with funding from Rotary Club International, on Friday 24th March, 2017 launched a Green Inclusive Local Economy Project at Murugu to support seven communities fringing the Mole National Park in small scale farming (Conservation Agriculture), Honey Production and Bee keeping. Moringa and mango production has also been included in the intervention program to maximize value returns for these communities.
The deputy director for A Rocha Ghana, Mr. Daryl Bosu in his address, called for community support in the sustainable management of natural resources for the benefit of both the present and future generations.
The new project will also continue an existing organic Shea program to broadly improve the livelihoods of community members especially women who play major roles within the family setting. The 2 year project is expected to contribute to minimizing unsustainable farming practices, logging, mining and charcoal burning among others; whiles alleviating poverty and adding market value to agricultural products produced. The seven beneficiary communities are Bawena, Grubagu, Kpulumbo, Mognori, Murugu, Yazori and Wawato.
Support and collaboration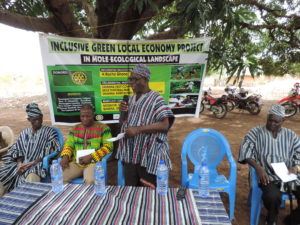 The project is being  embarked upon in collaboration with the Forestry Commission (FC), Savannah Fruits Company (SFC), Community Resource Management Areas (CREMAs), North Gonja and the West Gonja District Assemblies.
As a show of community support, Chief Gabase-Wura, head of the Damongo and Wasipe traditional area, chaired the project launch and commended the implementing institutions for the foresight in collaborating to alleviate poverty within the Damongo and Wasipe traditional area. Other traditional leaders in attendance were the Murugu Land Priest, Tindaana Mambala Naa-Yuwa, the youth Chief Ware Lange, Langaterewura Sanufunu Sulemana and the Deputy Mole Park Manager Mr. Festus Agya-Yao and Mr. Iddi Emmanuel (SFC).