Demonstrate your commitment to SDGs, Secure Atewa Forest, H.E Nana Akufo Addo
After a long treacherous 95 kilometer walk from the Atewa Forest Reserve through the scorching sun to present a "No Bauxite Mining" petition to the president of Ghana, the "Concerned Citizens of the Atewa Forest Landscape", have once again expressed worries over the loud silence and non-disclosure by government on the issue of Bauxite mining in the Atewa Forest Reserve since their protest early this year. The group, made up of chiefs & community members, assembly members and other civil society groups within the Atewa Landscape on March 22, 2018, called on the President of Ghana through a petition to delist Atewa Forest Reserve as part of areas targeted for bauxite mining after their 95-kilometer protest march.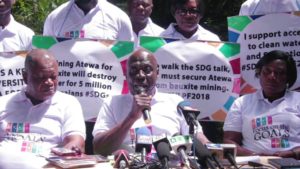 A Call on the President to Walk the Talk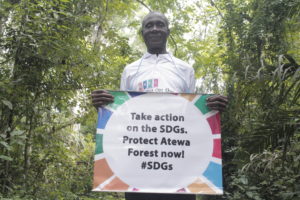 On Thursday, July 13, 2018 a press conference was held at the Atewa forest boundary at Segyimase (a community in the East Akyem Municipality) by the group to express their worries on government's silence with regards to the bauxite mining issue. Nana Oteng Adjei, a leading member of the group called on President Nana Akufo-Addo to demonstrate his promise to support the Sustainable Development Goals with local action. President Nana Akufo-Addo, is a Co-Chair of eminent persons selected by the UN secretary general, António Guterres to advocate for the implementation of the SDGs. The press conference was organized to coincide with the 2018 High Level Political forum on the sustainable development goals in New York
"In as much as we support the President's plans to exploit the bauxite resources of the country, we reject attempts to target Atewa forest which is our heritage and a source of wealth to over 7 municipalities and district assemblies in the Eastern Region and specifically providing water to over 5 million Ghanaians…"We the Concern Citizens of Atewa landscape find your silence very worrisome and disturbing and the time is now right and opportune for you to break your silence as Co-Chair of the UN Sustainable Development Goals Advocates"

Nana Oteng Adjei (Leader, Concerned Citizens of the Atewa landscape)
The group called on the president to as a matter of urgency demonstrate commitment towards the implementation of the Sustainable Development Goals by designating Atewa forest, a Key Biodiversity Area (KBA) and as a National Park to ensure the continuous provision of water to over 5 million Ghanaians, and protection of biodiversity and livelihoods. The group is determined to continue to advocate for the protection of Atewa Forest against all forms of environmental threats, including Bauxite mining.
---
---