Selling our water, food and heritage for Gold and Bauxite
FAO and the World Water Council (WWC) warn that in 2050, water supplies will dwindle in parts of the world, threatening food security and livelihoods. The Water Research Institute of the Council for Scientific and Industrial Research- Ghana has predicted a national water crisis in Ghana by 2030 if immediate steps are not taken to protect the countries water resources.
Threats to Water Supply
Already, there are serious water shortages reported in almost every region in Ghana due to excessive pollution of raw water sources by illegal mining activities. Fears are that, if immediate action is not taken, Ghana will cease to be able to produce its own drinking water.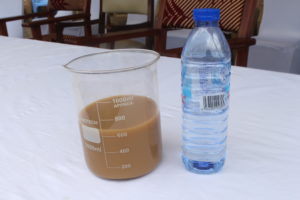 For the community of Kyebi in Ghana's Eastern Region, this water shortage is a lived reality. Certain areas of Kyebi have gone weeks without access to piped water. Water shortages are acutely linked to 'galamsey' (illegal mining) activities that use mercury and cyanide in their operations along the river Birim which flows from the Atewa Forest Reserve. The water has been increasingly untreatable due to dangerous chemicals and excess sediment. Other water threatening activities in the area includes improper use of agro-chemicals in farming and cattle rearing along riverbanks. A bigger threat is the interest by government to mine bauxite within the forest reserve. If successful, about 5 million Ghanaians will suffer serious water challenges in the future.
A Call to Action
A Rocha Ghana joined the 2017 World Water Day celebration at Kyebi to raise awareness on the importance of Atewa Forest Reserve and also press home the need for government to quickly designate the reserve as a National Park. This intervention is expected to secure a long term protection of the forest reserve and ensure continues water supply. The event was attended by the regional minister, Dr. Kwakye Darfour who called on the chiefs and community members to protect their water resources. Representatives from Ghana Water Company, Environmental Protection Agency, Water Resources Commission and the various security agencies were also present at the event.
---