Students in Conservation Support Call to Save Atewa Forest
The advocacy to conserve Atewa Forest Reserve for its water and rich biodiversity resources has been re-echoed by the Coalition of Students in Conservation (COSIC). The Coalition, formed in 2012 is made up the Renewable Natural Resource Students Association of KNSUT, Save the Frogs Ghana, Forest Resources Technology Students Association and A Rocha KNUST.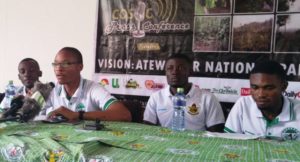 In a press statement issued by the coalition on Tuesday, October 10, 2017, the group expressed concern over the Ghanaian government's recent proposal to leverage some deposits of  Bauxite mineral resources within the Atewa Forest Reserve  and the Tano Offin Forest Reserve in exchange of $15billion from the Chinese Government for development purposes. The coalition mentioned the importance of Atewa Forest Reserve for its water provisioning functions for over 5 million Ghanaians as well its significance as a Globally Significant Biodiversity Area (GSBA) as part of reasons for their concern.
"The forest provides water to over 5 million Ghanaians spread across the Greater Accra Region, Eastern and parts of the central region. The Densu, Ayensu and Birim Rivers which supplies these water services, all take their source from the Atewa forest Reserve." COSIC 2017
The group called on the President of Ghana, H.E Nana Addo Dankwa Akufo-Addo and his Vice, H.E Dr. Mahamudu Bawumia to as a matter of urgency:
Publish and share the details of the MOU signed with the Chinese government, so the Ghanaian public can make healthy and informed decisions and also pave way for deliberations and solutions to foster sustainable development.
De-list Atewa Forest Reserve from targeted areas for bauxite mining before the final agreement takes full force in order to secure our water supply for today and tomorrow
To use his Executive Power to declare Atewa forest as a National Park which they project will provide some level of security and stability for the implementation of sustainable activities and also, entrench Ghana's commitment to the SDGs, particularly Goals 6, 13, 11 and 15.
---