Team Ghana Wins Africa Biodiversity Challenge Award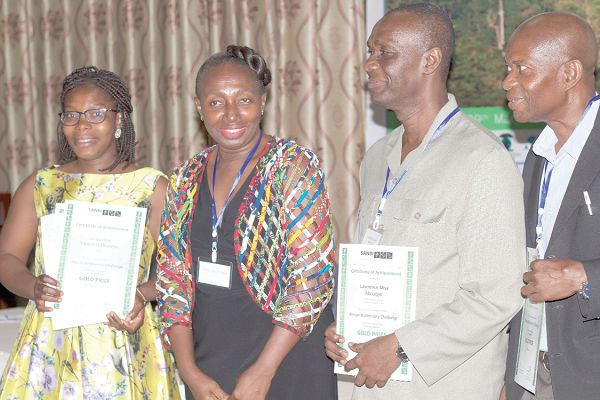 A Rocha Ghana is part of a team that won the maiden edition of the Africa Biodiversity Challenge Award programme (ABC) which took place in Accra, last week.
Biodiversity refers to the variety of plant and animal life in the world or in a particular habitat, a high level of which is usually considered to be important and desirable.
The Ghana Team comprising A Rocha Ghana, Conservation Alliance International, Ghana Biodiversity Information Facility of the University of Ghana and the Council for Scientific and Industrial Research (CSIR) beat their Malawi, Namibia and Rwanda counterparts to gain the top spot in the competition.
The competition had tasked competitors to publish as many policy-relevant data as possible by the end of 2018 so that the datasets are made available to national decision-makers.
The Ghana team in their bid to win mobilized over 23,932 biodiversity data on forest vegetation, food crops, mammals, reptiles and pollinators to win the gold prize.
Malawi which mobilized data on 9,641 useful plants, birds, mammals, reptiles and pollinators won the silver award while the bronze price was jointly taken by Namibia and Rwanda who gathered data on 6,400 mammals and data on 2,164 fresh water biodiversity plants and invertebrates.
Important achievement
In an address read on his behalf at the event which coincided with the 2019 Biodiversity Information Management forum, the Minister of Environment, Science, Technology and Innovation, Professor Kwabena Frimpong-Boateng, said winning the Gold Award was an important achievement for biodiversity conservation in Ghana since biodiversity information was very relevant to advancing Ghana's sustainable development agenda.
"We need a globally competitive natural resource management system that can enhance research and innovation, inform planning and policy development as well as assist in decision-making," he said.
Prof Frimpong-Boateng noted a generation of biodiversity information was critical to all sectors of the economy, including energy, tourism, agriculture and health, as well as supporting national efforts towards developing a green economy and attracting foreign direct investment.
Highlighting the importance of biodiversity, the minister said research showed that between 2004 and 2015, investments in conservation businesses and green economic development amounted to $8.2 billion in private capital.
He said a total of $6.5 billion in private capital was also allocated to projects that undertook sustainable agriculture, $1.3 billion for habitat conservation and $400 million to improve water quality and delivery.
He noted, however, that only nine per cent of the huge investment went to Africa, with 62 per cent going to North and Latin America.
He blamed the low investment in Africa on the lack of primary data that could be used to quantify baseline biodiversity patterns or evaluate local ecosystem services, as well as the lack of a biodiversity information monitoring systems to effectively measure the impact of the investment.
"Investors want consistent, standardized and accurate evaluations of capital and biodiversity to confidently support any green enterprises for sustainable development. This is the more reason why we should give the exercise of biodiversity data mobilization a more serious attention," he said.