UN Global Compact and BESNet Host a Green Investment Dialogue
Stakeholders in the environmental sector have held a dialogue on green investment in Accra, on the theme, "Connecting Business to Green Investment Opportunities".
The event organised by the Businesses in Environmental Stewardship Network (BESNet) and A Rocha Ghana in collaboration with the UN Global Compact created a platform for participants to learn about green investments opportunities and how to access them.
The partnership of UN Global Compact, BESNet and A Rocha Ghana, recognises that, environmental conservation and sustainability of natural capital is paramount to the successful achievements of the Sustainable Development Goals (SDGs) and in order for businesses to contribute the SDGs, they must be strategically engaged in a way that ensures that their operations have minimal negative impact on the environment and biodiversity. The programme coming under the auspices of the Mobilising More for Climate Program, seeks to drive investments for green investments to the areas where it is most needed. The MoMo4C is implemented by the partnership of IUCN Netherlands Committee, World Wildlife Fund and Tropenbos International.
"A very common and effective strategy is green investment. Green investment serves as an incentive for businesses to transition to become eco- friendly," they said.
A Case for Green Financing
Placing more emphasis on the importance of Green Financing, Risk Manager of the Ghana Infrastructure Investment Fund (GIIF), Mr. Kwadwo Kwakye Gyan said Green Financing should be a key component of Ghana's National Climate Change Policy (NCCP) and sustainable development strategies.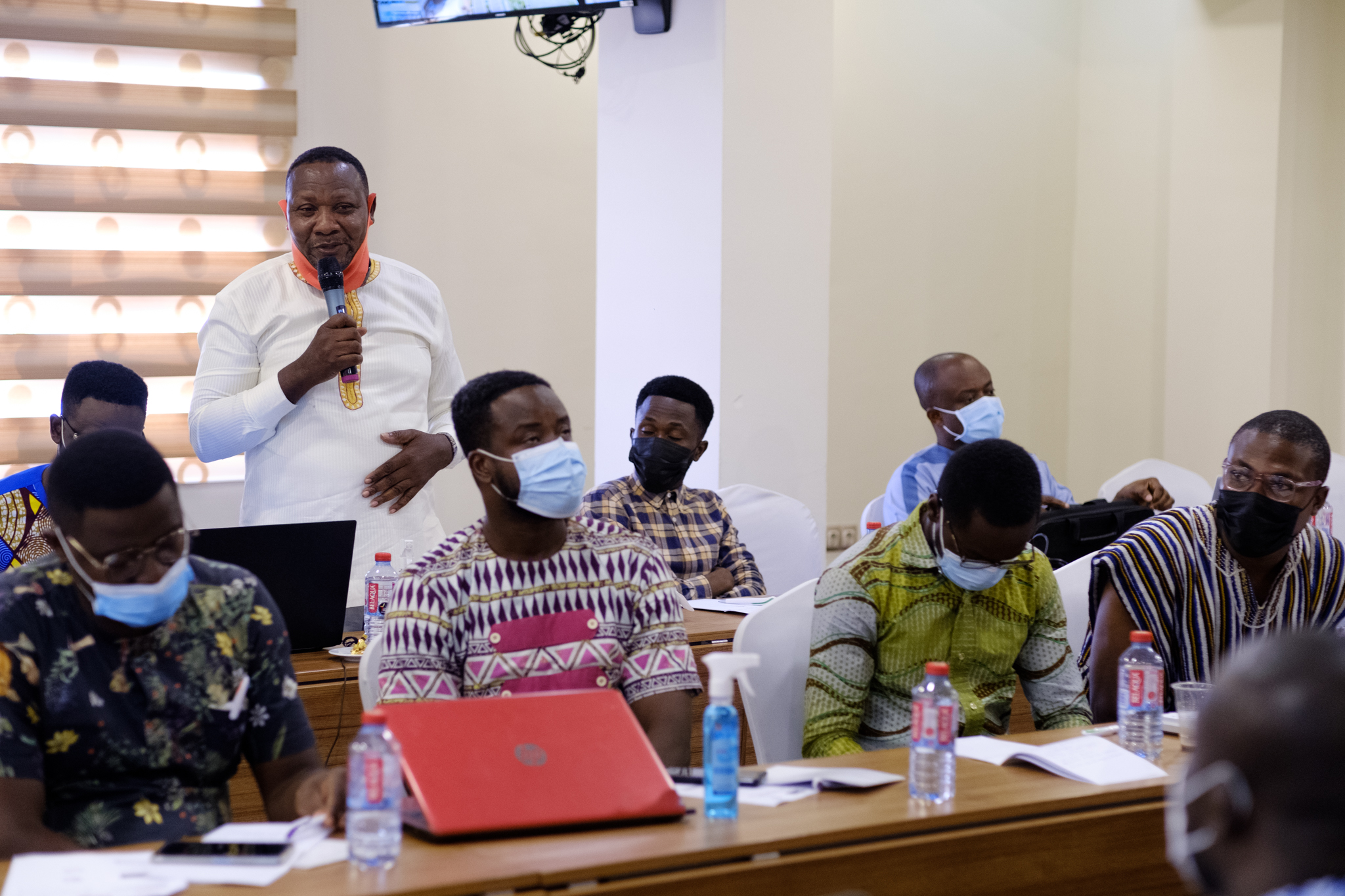 The NCCP outlines the vision and objectives with respect to effective adaptation, social development and mitigation. Its aim is 'to ensure a climate-resilient and climate-compatible economy while achieving sustainable development and equitable low-carbon economic growth for Ghana.
According to Mr. Gyan, many nations across the globe have adopted green financing and sustainable measure to help curb the menace of climate change.
He said stakeholders should also be concerned about the planet and not only the profit they would make from their businesses by investing in ventures that would help make the world a better place.
Private sector funding key to climate fight
On his part, Economics Officer at the Ministry of Finance, Mr. Foster Gyamfi encouraged private sector to invest in the fight to effectively curb the impact of climate change as well as contribute to global efforts in keeping the temperate of the world below 1.5oC.
Speaking via a zoom call, Mr. Gyamfi revealed that Ghana is expected to mobilise between $9.3 to $15.5 billion of investment to implement the 47 revised National Determined Contributions (GH – NDCs) programmes to fight climate change, from 2021 to 2030.
According to him, "$3.9 billion of the total sum, would be required to implement the 16 unconditional programmes of action under the NDCs as well as $5.4 billion to finance 31 conditional programmes of actions of the NDCs adding that a supplementary $3 million would again be needed biannually, to support coordination actions and regular international reporting on the NDCs.
These costs he said, the government of Ghana on its own, may not be able to fund as the impact of COVID-19 has weighed heavily on revenue accruement whiles expenditure keeps increasing.
It is to this end that government must provide more incentives for new investments, shifting more towards financing which requires governments to create the right environments to attract more private investment, Mr. Gyamfi submitted.
Green opportunities assessed
At the dialogue green opportunities for businesses were assessed during a panel discussion session.
The panel comprised Ebenezer Arthur from Wangara Green Ventures, Agnes Osei Ansah from PFAN and Gifty Owusu Nhyira from Ecobank Ghana.
The panelists expressed their views on green investment, its relevance to the business community of Ghana as well as the challenges and prospects of green investment in Ghana. This was followed by discussions on the green investment facilities (products/services) that each of the organizations represented on the panel have available for businesses in Ghana and requirements the businesses are expected to meet.
Some of the mistakes that are often committed by the businesses when accessing these facilities were raised the panelists gave some recommendations as to ways to avoid such mistakes.  
The event was sponsored by Ecobank Ghana.
Gallery