World Environment Day Essay Competition

Context   
Fifty years ago World Environment Day was created with the motto 'Only One Earth'. Celebrated on the 5th of June every year this year celebrates 50 years of environmental action and awareness with the same theme. The day is commemorated for celebrating and appreciating the richness of the earth's biodiversity alongside raising public awareness and action towards the threats our wonderful planet faces . It also gives the platform for promoting progressive green solutions towards the achievement of the Sustainable Development Goals (SDGs). This year's theme for World Environment Day  #OnlyOneEarth – calls for transformative changes to policies and choices to enable cleaner, greener, and sustainable living in harmony with nature. It will focus on the need to live sustainably in harmony with nature, and our possibilities for shifting to a greener lifestyle through both policies and individual choices. "Only One Earth-" was the motto for the 1972 Stockholm Conference.
50 years on, the motto is as pertinent as ever – this planet is our only home, and humanity must safeguard its finite resources.

 A Rocha Ghana is committed to the conservation of the natural world for the wellbeing of people and nature and our commitment to Sustainable Development Goals 4,6,7,11,12, 14,13,15, we seek to promote quality education and learning, while we protect, restore and promote sustainable solutions towards addressing environmental loss. Thus, we together with our partners Open Foundation West Africa and GH Environment, are inviting children and students to partake in an essay contest launching on the 5th of June 2022 to commemorate this important day. This contest is to allow children to express what the theme means to them and the Earth as a whole and how children and youths can contribute to issues such as climate change, health issues, food and water security, sustainable livelihoods and biodiversity loss. Young people are encouraged to use their literacy skills to raise awareness, featuring on the theme of World Environment Day.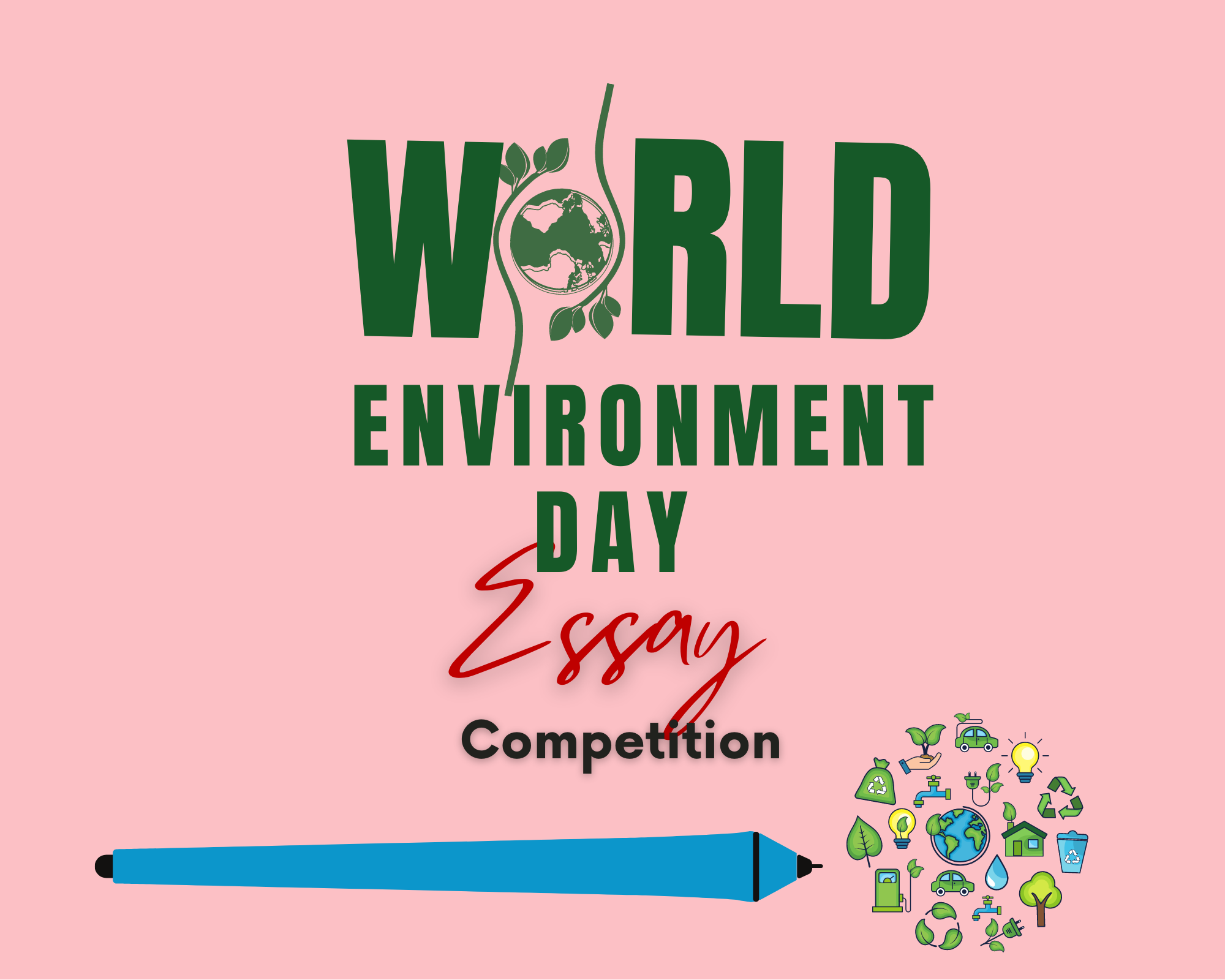 Who May Enter
The contest is open to Ghanaian children within the country in these three categories
Category 1
Ages: 6 to 9
Category 2
Ages:10-13 
Category 3
Ages: 14-16
Topic: Only One Earth- How will you take care of it?
How to Enter
Essay should not be less than 500 words or more than 1000 words.
Take a good quality picture or scan of your essay and send to Email:

[email protected]

WhatsApp- 0209020801 or send via post P.O.Box KN 3480 Kaneshie, Accra by the end of 24th June 2022. Let your submission include your full name, age, school (indicate if home-schooled), location of school (City/Town) and contact detail (Phone number/email)

Parents/Guardians may submit essay on behalf of children without Email/WhatsApp. Please include your full name and details stated above of child.

Announcement of winners will be made on the 30th of June 2022 on A Rocha Ghana and partners social media handles.
Contest Rules
Judging of the winning entry will be performed by a panel of judges and will be based on creativity, originality and literacy.

Following the end of the submission period, the panel will select a winner from each category

The winners will be notified by an email/WhatsApp which will be sent to with the entry essay. Only the 3 category winners will be notified of the contest outcome.

The winners will be featured on A Rocha Ghana and partner's website and social media with the permission from the winner, submission may also be chosen for inclusion in promotional and other materials, such as (without limitation) calendars, classroom posters, greeting cards, etc. By entering this contest, each entrant hereby grants A Rocha Ghana, the right to use his/her first name only, age and/or grade level to credit his/her submission, when feasible and appropriate in their sole discretion, in connection with such purposes.
Prizes
Each category winner will receive;
Certificate

Free introductory sessions from Wikipedia

Wikimedia souvenirs from Open Foundation West Africa.

Publication of essay on several online news outlets
Share info on the contest via social media, WhatsApp and other SAFE electronic/digital means!
Contest Flyer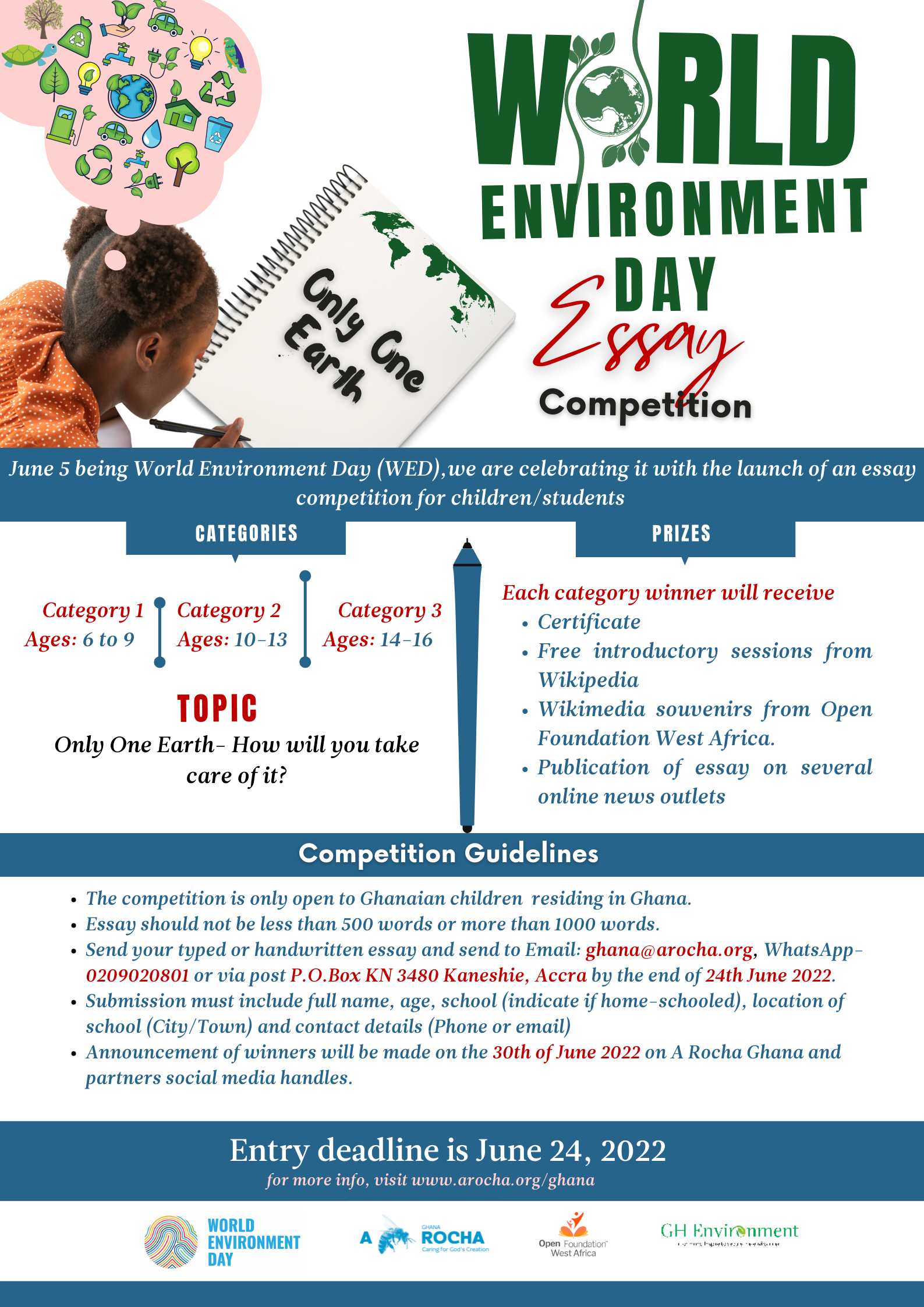 PARTNERS: