Zaacoal Wins Green Corporate Star Award
Zaacoal Limited a renewable energy company which produces clean, long burning and high heat charcoal from coconut waste has been named 2021's Green Corporate Star under the prestigious EMY Africa Awards.
The charcoal production company beat several nominees to be winner of the all-important accolade.
At the event which took place at the plush Kempinski Hotel in Accra on October 23, 2021, Zaacoal joined several other winners to celebrate distinctive milestones made in their respective circles and industries.
The Green Corporate Star award, sponsored by A Rocha Ghana (ARG), is a special recognition award for corporate entities who through their works have promoted green and environmental sustainability and have environmental sustainability at the heart of their operations.
Entities nominated for this enviable award in many ways support green interventions for the attainment of the Sustainable Development Goals (SDGs).
Zaacoal
Zaacoal through its operations is addressing the issue of unsustainable charcoal production—a canker that has contributed immensely to the depletion and degradation of forests and savannah areas in the country.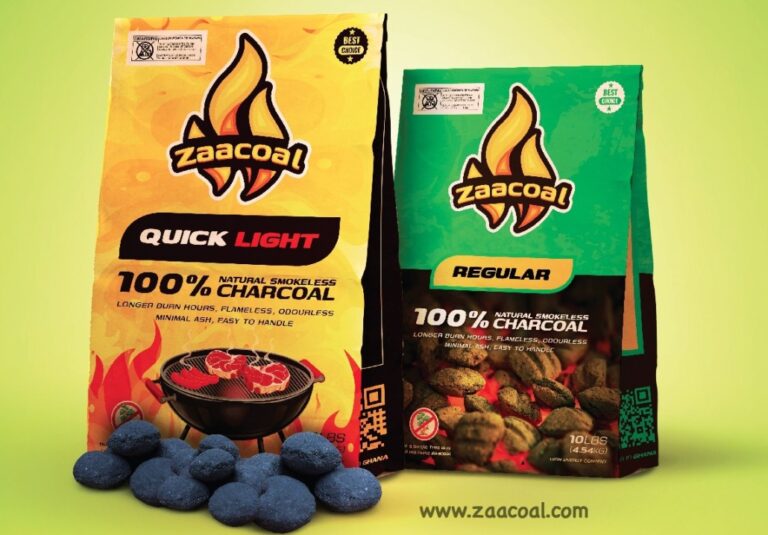 By turning waste into alternative energy, companies like Zaacoal Limited are changing the narrative and proving to all that we can be less worried about the environmental hazards caused by charcoal production.
Zaacoal takes coconut waste and converts it to charcoal by burning it without oxygen (using modernized kilns and carbonizers). It is then moulded and packed into paper bags for sale as Zaacoal.
The core mission of the company is to transform waste materials that were initially taking up space at already brimming landfills and turning them into sustainable energy for cooking. With this innovation, thousands of trees have been saved.
Read more about Zaacoal HERE
Gratitude
Sulley Amin Abubakar, founder of Zaacoal Limited said he was honoured to receive the Green Corporate Star award. For him, it was evidence that the good works of his company had been recognised and appreciated.
He expressed gratitude to his workers and customers for the confidence imposed in him and for also helping realize his dream.

Be Like Zaacoal
Just like Zaacoal, it is about time that businesses transform to bring about a sustainable economy for Ghana.
There are vast opportunities for companies and organisations to accrue significant benefits by taking either a giant or a small leap to go "green".
We all have the potential to build, transform and invest in business models and operations that enhance ecosystem services and safeguard the environment from further pollution and degradation.
Take the opportunity and join BESNet, the network of businesses, sharing, learning and blazing the trail by developing and building green businesses for a sustainable environment today and tomorrow.
To get to know more about BESNet and join, click HERE