Godwin Evenyo Dzekoto
Project Manager, Northern Sector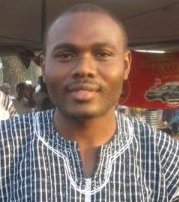 Godwin holds a Bachelor of Science degree in Natural Resource Management with specialty in Wildlife and Range Management from the Kwame Nkrumah University of Science and Technology (KNUST), Ghana. He has been part of  several community based projects in the northern regions of Ghana, particularly areas around the Mole National Park. Godwin has rich experience in the conservation of important ecological habitats such as forest reserves and protected areas; Conservation Education, Research, Community based natural resource management initiatives as well as Climate change mitigation mechanisms.
What interests you most…
Meeting and interacting with people from different cultures and backgrounds. Everyday presents opportunities to learn new ideas thereby making my work up north an interesting one considering the traditional and cultural diversity that exist.
I love what I do because…
My personal drive in A Rocha is the Christian and Community based nature of our work. Seeing the gradual transformation of communities  through our activities and initiatives brings lots of joy.