Isaac Kofi Ntori
Project Officer (Research Assistant) –Northern Sector Office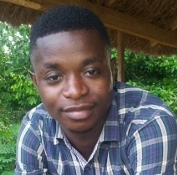 Isaac holds a Bachelor of Science degree in Entomology and Wildlife Management from the University of Cape Coast. He has over five years field experience in biodiversity conservation and developmental issues. His work with A Rocha Ghana since 2015 with Kibi Project office has contributed to a greater national and global visibility of the threats to Atewa and the need to increase its protection status. Currently, Isaac is a Project Officer at Damongo (Project Office) in the Savannah Regional of Ghana where he engages communities, schools and other stakeholders in biodiversity conservation, education and advocacy, awareness creation on climate change mitigation and adaptation, collaborative natural resource management and creation care. He is very creative and resilient with excellent ability to work harmoniously in multi-cultural team and adapts to new cultures.
What interests you most…
I have this penchant for conducting research towards achieving a resilient and sustainable environment and have always appreciated, especially the adventurous experiences that come with it.
I love what I do because…
I believe I am contributing locally to a global quest for a safe and cleaner environment; a world where resources are managed effectively and efficiently.