Prosper Antwi-Bosiako
Programs Manager, Southern Sector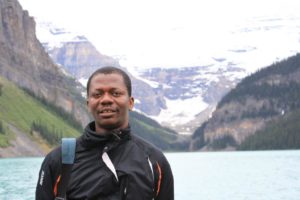 Prosper is a Conservation Specialist with over 10 years experience in species conservation, research and community resource management. He holds masters in Environmental Science from Wageningen University and Research-Netherlands. Prosper has contributed significantly to A Rocha's work in most regions of Ghana, particularly within the Southern Sector (Comprising Brong Ahafo, Ashanti, Western, Eastern, Volta and Central Regions).  An example of his many successful milestones is his years of service and contribution to UNESCO's designation of Lake Bosumtwe as a Biosphere Reserve in Ghana. One distinct trait about Prosper is his passion to learn, share knowledge and inspire young environmentalists and conservationists. This character trait is admirably seen in his work with many young people as well as students. He is currently based in Kumasi in the Ashanti region of Ghana where he is inspiring change and caring for God's creation.
What Interest you most….
The earth interests me most because it is what we all have in common. I am also interested in the saying that "Progress is impossible without change, and those who cannot change their minds cannot change anything. Accordingly, I am very enthused about collective action towards protecting mother earth through a renewed positive mindset.
I love what I do because…
The conservation movement does not belong to one stakeholder.  Instead, it entangles the concerns of indigenous or rural people, their domestic governments, and more recently, international political organizations and NGOs.  However, not all of these stakeholders are considered to be "conservationists." I therefore love it very much, when all stakeholders are able to integrate scientific perspective and local knowledge in solving conservation problems for sustained environment now and for the future; meaning all stakeholders becoming conservationist.