Secure All Watersheds In Ghana To Ensure Water for All by 2030
Concerned Citizens Of Atewa Landscape To Gov't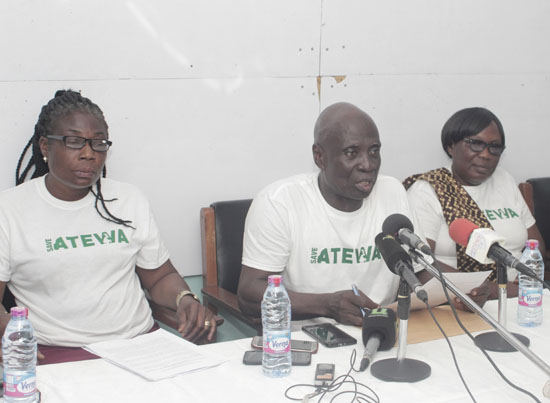 The Concerned Citizens of Atewa Landscape (CCAL) and A Rocha Ghana has made a clarion call on government to ensure inclusiveness in the planning and management of development programs that have an impact on Ghana's water resources.
At a press conference held last Friday, in Accra to commemorate the World Water Day, CCAL said Ghana may not achieve the Sustainable Development Goals (SDGs) 6 by 2030, if it fails to put in place an emergency protection program to secure all watersheds in Ghana.
"We ask government and the agencies that be to revisit our national water policy to focus on: Giving whole legal protection status for all watersheds or forest reserves that serve as head waters for all major river basins in the country," they said.
They further asked that government to create vegetation buffers along water courses and give these buffers legal protection and support nature-based strategies that give incentives to communities that support watershed protection and management in Ghana.
CCAL advised government to "Explore nature-based strategies for enhancing these watersheds for revenue generation and enhancing the livelihood of communities who live close to these water towers."
Their statement listed five major issues of critical concern, urging swift government action. The group also employed government to re-strategize and re-organize to address galamsey and illegal small-scale mining.
"Without any doubts, we are aware of the resurging influx of foreigners to areas where galamsey was previously rife. Not seeing them mine in the open, does not mean mining is not happening.  The miners are now hiding in the ticket of existing forest reserves that is why the rivers and streams are not clearing up."
"We the Concerned Citizens of Atewa, state without any equivocation that, there is serious under-storey mining going on in the Atewa Forest Reserve and other forest reserves…It is interesting to observe that we have not re-organized to halt the resurging impunity that is creeping up," they noted.
The group also asked if Vanguard is still active, and if they are, have they not seen that the miners are now working by night and not by day?
Below are the remaining areas that government has been tasked to take action on without delay;
Make the Ghana Integrated Aluminum Development Corporation (GIADEC) Board inclusive by adding the Environmental Protection Agency (EPA) and Civil Society on the board.
GIADEC to adhere to national and international social and environmental safeguards standards by conducting an Environmental Strategic Assessment (SEA) on the bauxite development agenda, as first step to working towards so called 'responsible bauxite mining' rhetoric. According to CCAL, doing an SEA is the accepted international best practice and must not be ignored. This, they said will provide a basis for the Authority to appreciate positives as well as the adverse effects the mining industry may have on the Ghanaian environment and communities and proactively fashion out solutions to mitigate its effect where it is determined by the assessment that the mining activity can be compatible with the prevailing land use.
For CCAL, the Atewa Forest, which is the source of water for over 5 million Ghanaians remains a 'no go' area for bauxite mining. They added that they will not make a mistake by letting the rhetorics of 'we will do responsible mining' destroy Ghanaians right to good quality drinking water.
CCALL further called for the inclusiveness of Civil Society, and members of the community on the District Committee On Illegal Mining (DCIM). They also believe the inclusion of women representation on the Committee will foster the neutrality and effectiveness of the DCIM.
In the area of education on issues of illegal mining, the group has called for the input of the National Commission on Civic Education (NCCE) in addressing the menace of galamsey. They argue galamsey is not only a threat to the environment and river bodies but also a serious scorch on Ghana's social values, leading to the breakdown of law and order in a once value oriented communities. They impress on government to resource NCCE to enable them play this role effectively.
"We need to see the NCCE information vans in our communities creating awareness on the impact of galamsey and the need for the youth to commit to education, sustainable jobs and dignified lifestyles. Education in our communities needs to be intensified and we have no doubt that adequately resourcing NCCE can play a significant role," the CCAL stated.
WWD
Friday, March 22 was World Water Day (WWD) and all over the world, the day was observed with the Theme: 'Leaving No One Behind'. This is an adaptation of the central promise co-opted in the Sustainable SDG6, which focuses on ensuring water for all by 2030.